Using custom XML files in USMT & SCCM
February 9, 2022
About USMTGUI versions
February 19, 2022
Pre-selected (default selected) XML files
How to change what XML files are default selected when running USMT GUI 10 St.Alone EntC.exe
To facilitate the technicians in everyday use, from USMTGUI v. 10.19.1803 and onwards, you can now preselect what XML files are selected when backing up a user profile, by simply placing a DefaultXMLs.txt file containing a list of XML's. These XML's then of course must be present in the "USMT_x64_v10" and "USMT_x86_v10" subfolders.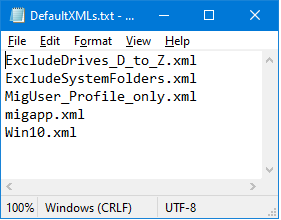 How To Add XML files or Edit the DefaultXMLs.txt
The USMT GUI 10 St.Alone EntC.exe is actually a self contained wrapper..
Please "crack" it open with fx WinRAR (Right click, "Open with WinRAR") and place the DefaultXMLs.txt in the USMT GUI 10 Ent folder.
– Residing there is already a DefaultXMLsDEMO.txt. demo file..

Adding your own custom XML files
Add custom XML files to the USMT GUI 10 Ent subfolders "USMT_x64_v10" and "USMT_x86_v10".