USMTGUI 10.24.21H2 released
February 9, 2022

User profile migration to Azure
February 9, 2022
User Profile Central new release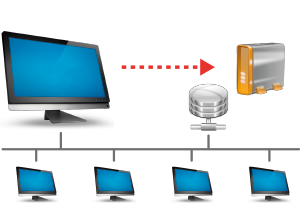 We are extremely happy to be able to announce the release of the updated version of UPC – The User Profile Management Center.
With User Profile Central you can easily backup and restore user profiles over networks from and to a network share.
From/to any PC and from one User to another and from one AD to another.
Fixed in v. 2.3:
Timing issue in user detection that sometimes made UPC "give up" too early.
Speed optimized
When entering/selecting a PC you can now just use quick switches (pic below) like "Exclude all but logged in within the last 10/30/60 days" and/or "Exclude local users"
and start the backup right away.
The option to detect the specific users are of course still available.
– And note that you will still be offered a list of users to restore when selecting the backup repository.
Using MigUser_Profile_only.xml also greatly improves speed as MigUser_Profile_only.xml does not scan the drive outside the users profile for files.
– Please use with care as user files stored outside the users profile will not be found and backed up.
Stability improved
The Log monitor has been completely rewritten into a multi-threaded function, making the log monitor more resilient to temporarily inaccessible logs.
Offline mode log
UPC can now be closed/restarted while backups or restores are running
When reopened, UPC will pick up monitoring the backups and restores that ran when UPC closed, and show progress/completion.
History log
In the top menu Logs you can now go back and see all backups and restores previously carried out (from when v. 2.2 is installed and onwards).
Supports Win 7, 8, 8.1, Windows 10 to 21H2 and Windows 11 v. 21H2
If Interested in upgrading from other Corp licenses You will of course be deducted your initial payment.