User Profile Central 2.3.21H2 release
February 9, 2022
Using custom XML files in USMT & SCCM
February 9, 2022
Migrating to Azure with USMTGUI user Profile Handler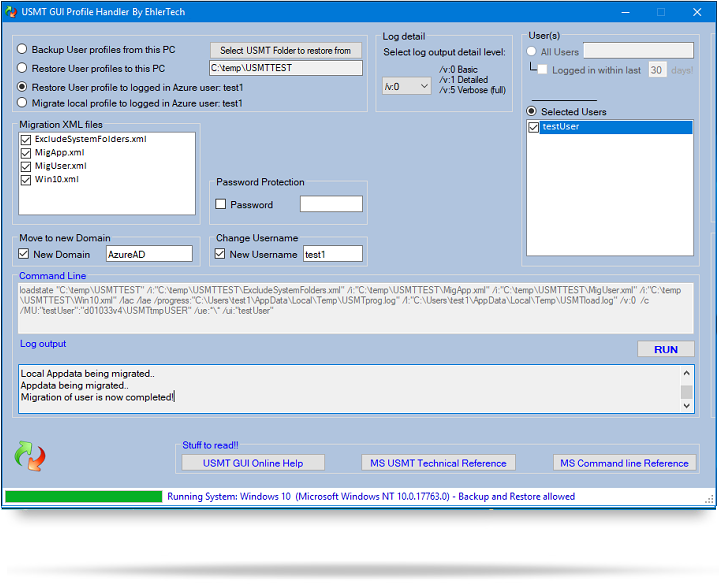 USMTGUI is what it states. A GUI to simplify the usage of USMT from Microsoft….

But as the world moves on towards the cloud, along with (at least parts of) Microsoft, one thing has become obvious.
Microsoft has not made, or even plan to make, USMT or another tool capable of migrating data and settings over to Azure users.

However, probably more than ever before, people want to bring their emails, pics, documents, application settings, recent files lists, quick links and browser cached passwords etc. over to their new user or new PC, whether it be a domestic or Azure AD account..


The ©AzureMigrationEngine
Direct transfer
You can transfer the old user accounts content directly to the currently logged in AAD user in a matter of minutes

Transfer from other PC to AAD user
Although based on a completely different technology, the ©AzureMigrationEngine is 100% integrated with the existing USMTGUI functionality, so you can backup a user, even on a Windows 7 PC running Office 2010 or 2013, and restore to the currently logged in Azure user on another PC running Windows 10.

Note: some details, like the recent files lists and quick links, the @AzureMigrationEngine does not transfer, as the database file is already created